Muslim Voices — Aslan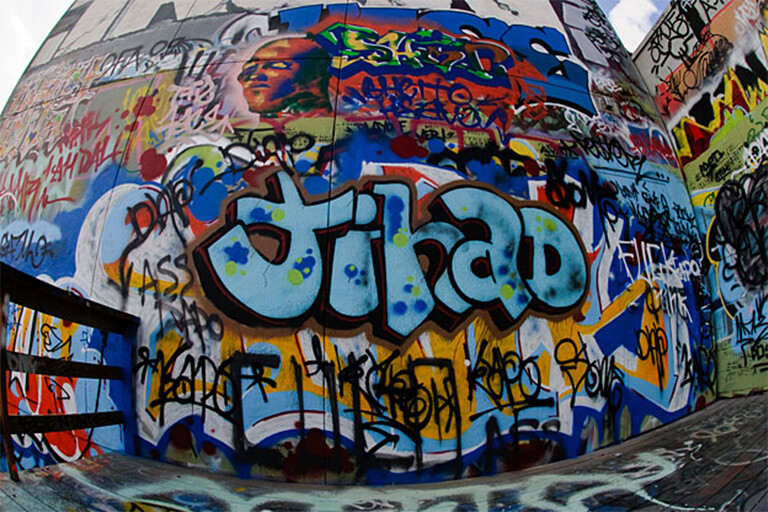 Audio transcript:
0:00:06:>>ROSEMARY PENNINGTON: Welcome to Muslim voices. I'm your host Rosemary Pennington. Former President George W. Bush often came under fire from critics during his administration for categorizing terrorists as evil doers for framing the war on terror as a kind of holy war or as Reza Aslan puts it a cosmic war. A cosmic war is a conflict in which the players believe what's taking place here on Earth is a representation of a larger battle taking place in the heavens. Aslan says members of the global jihad movement have been trying to cast their actions in cosmic terms for years. And Bush played right into their hands when he called them evil doers. Aslan explores these issues and much more in his latest book How to Win a Cosmic War God Globalization and The End Of The War On Terror. I caught up with Aslan at a New York hotel this summer and asked him how do you win a Cosmic War?
0:01:09:>>REZA ASLAN: What we need to do is to strip these conflicts of their religious connotations so that we don't get to the point where the 21st century starts looking like the 16th century.
0:01:21:>>ROSEMARY PENNINGTON: You write a bit about this idea of global jihad as a movement and not just this idea. Talk a little bit about that?
0:01:28:>>REZA ASLAN: Yeah. I mean this is a movement it's not an entity. And I think we have to stop thinking about it as such. You know it's a movement that goes beyond the boundaries of nation states or culture or ethnicity. It's a movement that is more about sort of a unity of ideas. And so as such you know we have to recognize that to confront a movement it's going to require more than just simply a military response. We need to figure out a way to make the movement irrelevant in the best way to do that is to address the fundamental grievances that the movement uses in order to sustain itself in order to draw people to it.
0:02:07:>>ROSEMARY PENNINGTON: So what are some of those - some of the things that they're using to draw people to global jihad.
0:02:12:>>REZA ASLAN: Well probably the most obvious one is the Israeli-Palestinian conflict which has become almost a universal symbol of Islamic or I should say Muslim suffering at the hands of a of a western imperialist fat power. But there is also much you know equally important issues such as the lack of social and political development in large parts of the particularly the Middle East and you know the fact that the United States has been supporting these dictators and you know that we're much more a force for oppression in that region than we are for liberation like we like to think of ourselves. And then there's you know a whole host of socioeconomic grievances as well. I think that what really needs to happen is that we have to focus on these material matters because these are the issues that we can do something about whereas the cosmic impulse is something that you can't really combat.
0:03:04:>>ROSEMARY PENNINGTON: How do you go about stripping away sort of that that cosmic level and really focus on the down and dirty of it?
0:03:12:>>REZA ASLAN: Yeah I mean I think that it starts with a change in rhetoric no question about that. And in that regard I think President Obama should be praised for you know stepping back from this precipice of cosmic war, not responding with the same religiously polarizing rhetoric or but the same Manichean world view that was so much a part of the Bush administration. But you know as important as words are we need actions to back them up as well. And part of those actions is again to to fundamentally address these grievances to make sure that American foreign policy in that region especially in the Middle East is predicated on more than just you know the securing of our own economic interests but that there is a recognition that it serves our long term interests to make sure that there is precisely the kind of political and social and economic development that so many Muslims, particularly young Muslims in the Middle East so desperately crave. And they look to the United States to provide that kind of leadership. And we need just to be there. We need to take on that responsibility. So it's a combination of the two right now. All we've done is change the rhetoric which is important. But we haven't gotten to the point yet where our actions haven't have matched our words.
0:04:27:>>ROSEMARY PENNINGTON: You write something that I found really interesting in the book about the idea of approaching Islamists not so much as the enemy but really kind of looking for ways of sort of bringing them into the political process. And there are so many people I've spoken to about Islamists who sort of - because you use an example as the just the developed party in Turkey. And there are so many people I've talked to who feel very nervous about the AKP because they feel like there are basically wolves in sheep's clothing. I mean so what would you say those people who who might think that perhaps your argument isn't naive but that it's maybe not that you're giving them too much credit for being willing to sort of take part in the political process?
0:05:08:>>REZA ASLAN: Yeah those people have been saying that for 10 years now that any day now the AKP will take off their masks and you'll see the ayatollahs underneath. Any day now as year after year after year passes as Turkey has won consecutive record economic growth year after another as it becomes more democratic than it's ever been, as the Kurds and the Armenians get greater freedoms of religion and freedoms of thought as Turkey gets closer to Israel and closer to Europe and closer to the United States. Every day they say any minute now. You know at a certain point you're going to have to stop saying that.
0:05:47:>>ROSEMARY PENNINGTON: Author Reza Aslan. His latest book is How to Win a Cosmic War God Globalization and the end of the war on terror. This has been Muslim voices a production of voices and visions in partnership with WFAA new public media from Indiana University.