Muslim Voices — Freer Art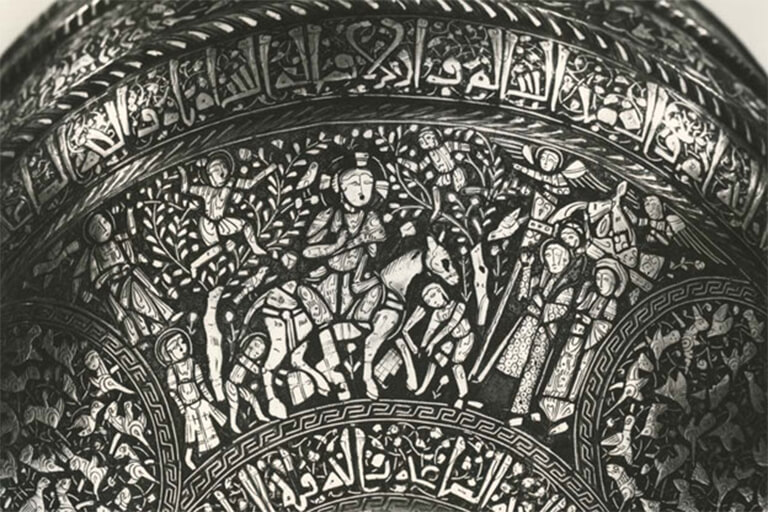 Audio transcript:
0:00:06:>>ROSEMARY PENNINGTON: Welcome to Muslim voices. I'm your host Rosemary Pennington. Sitting on the National Mall in Washington D.C. is the Freer Gallery, the first Smithsonian museum to focus on art. It's home to a number of paintings by James Whistler as well as his famous Peacock Room. The Freer also houses one of the most renowned collections of art from the Islamic world. Its prizes include delicate enameled glass, intricate tile work and a huge silver canteen. I recently got a tour of the collection from its chief curator.
0:00:44:>>MASSUMEH FARHAD: My name is Massumeh Farhad. I am the chief curator and curator of Islamic art at the Freer Gallery of Art and the Arthur M. Sackler Gallery of the Smithsonian. Let me actually sort of tell you a little bit about the collection as a whole because it's somewhat different from other collections of Islamic art. It is considered one of the best in the world with many iconic pieces. People come from all over the world to see some of the works in the Freer. For instance they're objects that are referred to as the you know the Freer plate or the Freer beaker. These are very sort of distinct works that really don't exist anywhere else and the subject of great scholarship. But unlike other collections, say the Metropolitan Museum, the Louvre in Paris or the British Museum, this is not a comprehensive collection. It doesn't have representations from every period from every country. But what it has, it has these sort of highlights of some of the greatest achievements, artistic achievements from the Islamic world. So it's a condensed view of the sort of artistic heritage?
0:01:57:>>ROSEMARY PENNINGTON: How do you define what's what Islamic art is for your specific collection.
0:02:01:>>MASSUMEH FARHAD: Well Islamic art is a very - in many ways it's sort of a loaded term. And it actually has has raised the very sort of interesting issues because what we see and what you see in these galleries, most of it actually has nothing to do with Islam. And the term Islamic art has come to be sort of used for the lack of a better term because otherwise you'd have to call these galleries the arts of Afghanistan Pakistan you know Iran Syria Egypt. And the list would just go on and on and on. And for the lack of a better term, art historians use the term Islamic. Now we for instance we don't call it Islamic art but the gallery is called the arts of the Islamic world because again we don't want this to be confused with say Hindu art or Buddhist art because this is not religious art by any means. They are works that certainly relate to Islam per say but many of the other pieces don't. And I think to make that distinction, even though it's very subtle we use the term arts of the Islamic world.
0:03:17:>>ROSEMARY PENNINGTON: So if there are not miss pieces in this collection what would they be? If someone was coming and had a very short amount of time and when we see sort of the highlights of this particular collection what would you point out to them?
0:03:30:>>MASSUMEH FARHAD: I think it really depends what you're interested in, like anything else. There are many iconic pieces. And it's very difficult to sort of say oh you know if you go they can only one piece. But for instance the case here that has three examples of glassware, enameled glassware and these are among the finest that you would find anywhere else in the world. Now you may not be interested in glass. But if you are or if you're just you know interested in sort of techniques of enameling or glass blowing I would certainly suggest you make sure that you you look at this case because enameling is an extremely difficult technique and especially on these large surfaces. I mean for instance with this bowl you can see these fantastic animals sort of running around the rim. And what you have to with Anam Ling what you do is you first make your vessel. And then to add the decoration enamel and you have to reheat the vessel. So it has to be you have to be very careful because you know one degree here and there, the whole thing was just just turn into a glob of glass. So again it shows extreme sophistication and technical mastery to really to be able to do an object like that.
0:04:47:>>ROSEMARY PENNINGTON: Do you have a favorite piece?
0:04:49:>>MASSUMEH FARHAD: I knew you were going to ask me. You know and I actually - I thought about it a lot. And I realized it's sort of a little bit like having to choose between your children. I sort of - I really see these as my children. And it's very difficult to choose one. But I will point out one object that is really really remarkable and again is among my favorites. Let's put it that way. It's the one object that when I first came here as a curator, I went into storage to see it actually not on the glass because you know most of you know as you see everything is on the glass. But to be able to see something close up is one of the great privileges of working in a museum. So this is the object. It's known as the Freer canteen again because you know it's belongs to the Freer. And there's no other one like it. Scholars have argued back and forth about where it was produced. But currently most agree that it was probably done in Iraq, in the city of Mosul in the 13th century. Now what makes this work really outstanding is not only its size and its technique because it's made out of brass but then inlaid with silver. So all the decoration that you see is actually inlaid and silver every piece. Clearly when you look at this it really has not been used very much like this. This was - even when it was made - considered a very special object. And we can look at that one for instance which is a basin which is the same technique. You can sort of see the inside. Most of the the silver inlay has actually fallen out because that one was used, whereas this one was hardly used. Now what makes this object particularly interesting is the decoration because if you look in the very center there's an image of the Virgin and Christ.
0:06:49:>>ROSEMARY PENNINGTON: That's who I thought it was.
0:06:51:>>MASSUMEH FARHAD: And then you have other scenes around it there is the birth there is the entry into Jerusalem. And there is the baptism. On the back, you have you have sort of in the inner circle. You have a sort of - they look as if they're sort of jousting. And then you have a row of of priests standing in an arcade. But we know for sure this was produced in the Islamic world. There's no doubt because this is a typical technique that developed and was used. I mean you see other objects that use the same technique. And also on the sides the decorations that you see that again is typical Islamic. They are little around dowels of figures of birds. And then there is also an inscription on the other - on this side. I know it's difficult. There is an inscription. And of course you know you see an inscription like that. And you pray and pray and pray that it sort of tells you who it was made for. But unfortunately some of these inscriptions become very frustrating because they're are just blessings. They don't really tell you who the patron is.