Muslim Voices — Hajj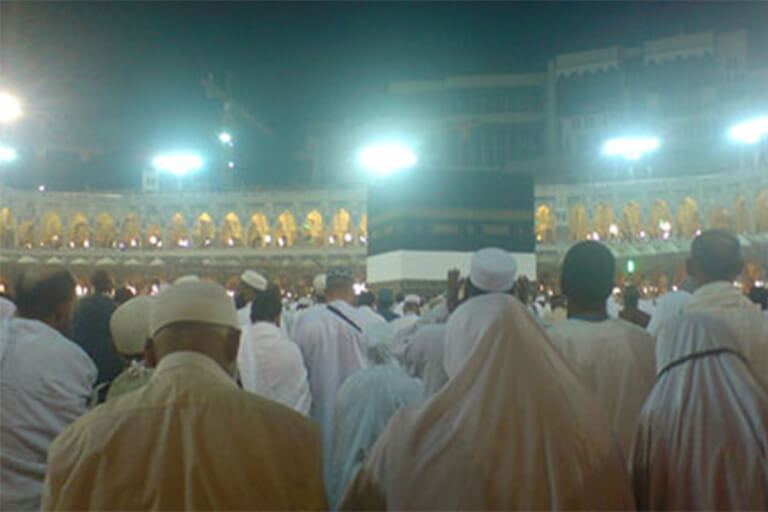 Audio transcript:
0:00:06:>>MANAF BASHIR: Welcome to Muslim voices. I'm your host Manaf Bashir. This week, millions of Muslims are in Mecca for Islam's annual pilgrimage, known as Hajj. This pilgrimage is 1 of the 5 pillars of Islam. A Muslim must complete Hajj at least once and his or her lifetime if they are financially and physically able to do so. While there, Muslims circled the Kaaba seven times, reenact harder search for water in the desert and throw rocks at stone pillars, which represent the devil. After a Muslim completes Hajj, he or she becomes known as Hadji. Today, we hear the stories of two Hadji's, as well as that of a woman who went on Umrah, known as the smaller pilgrimage.
0:01:00:>>SALEM DOHA: My name is Salem Doha. And I have been to Hajj. I was blessed twice. Once in mid 90s and then in 2001, my wife and I went to Hajj. It was very hard to describe because I thought I was very prepared for what to expect but when I went there I realized that it was a extremely overwhelming experience. Also, the feeling of accomplishment of Hajj was so overwhelming. The traditional garb, which is - you have to wear is just two white pieces of cloth or a haram. And that actually - when you are circling the Kaaba or when you're walking to Mino, or myself or anywhere, you can not really distinguish people from each other because everyone is wearing exactly the same kind of clothes. And you completely lose the distinction between either races or a stature. You just move among human beings, that's all.
0:02:34:>>LAYLA DENAH : I am Layla Denah and I went on Hajj three times. The last one was in 1986. The thing about the Hajj is that it's not just performing rituals but it's also sort of connecting with people so whoever you're going with, you end up bonding with them very, very tightly. And you also get to meet people from other countries and so it becomes a cultural exchange, as well, of information - of knowledge. So it's not just spiritual but it's also kind of a cultural socialization. And I enjoy doing that. And so that's why I went three times. When I was older, it was more emotional because I had already been there three times and the sheer magnitude of the population that was there was not as distracting to me. And so I was able to focus inwardly, I was more mature. The last journey I went to the Hajj on with my dad. How closer I got to him in terms of being able to talk about different issues, really connecting with him and how he took care of me. I mean, I was still, I mean, I was an adult but he took care of me and kind of gave me guidance in terms of, OK, what's next, what do we do next, what do we do here, and is it OK to do this, is it not OK to do that kind of things. I think that's my favorite memory.
0:04:12:>>KATHLEEN JAMAL : My name is Kathleen Jamal and I'm a doctoral candidate at IU and I went to Umrah which is a smaller pilgrimage in summer 2007. Umrah is not obligatory, it's not one of the main pillars of Islam. Like, you know, it's just voluntarily. Hajj is an obligation and it falls at a certain time during the year, like all of the people all over the world go there at that time. And it has more rituals into it. Umrah is voluntarily, you can do it anytime in the year and it's a smaller period - you can do it in one day, two days or three days. Hajj is more, like, specific - the time, and the duration and everything. It's physical work. I mean, you have to do lots of physical activity but at the same time it's, you know, more than the physical. It's the spiritual gain that you gain out of it. And actually when I was there I cried so much. I couldn't believe, like, it was so emotional experience, you know? I felt that religion is much more serious than what I thought to be. That was one of the main things. Like, I used to think lots of things, you know, like, just OK I can do it, I don't have to do it. But, you know, I'm not serious. When God talks about heaven, and hell and, you know, all these things in the Quran, we don't really take it seriously. We just read it, we just go over it. But when you experience those things, I mean, it's physically exhausting but at the same time it shows you that there's something much more than what we really think. It's real - it's more real. I mean, the religious experience becomes more of a real thing.
0:06:03:>>MANAF BASHIR: Hajj runs from December 6 to December 9. It coincides with one of Islam's major holidays, Eid al-Adha, the four-day festival of sacrifice. This has been Muslim Voices, a production of voices and visions in partnership with WFIU public media from Indiana University. Support for Muslim Voices comes from the Social Science Research Council. You can subscribe to our podcast on iTunes or join the discussion on our website. Find us online at MuslimVoices.org.