Muslim Voices — Iraqi Impressions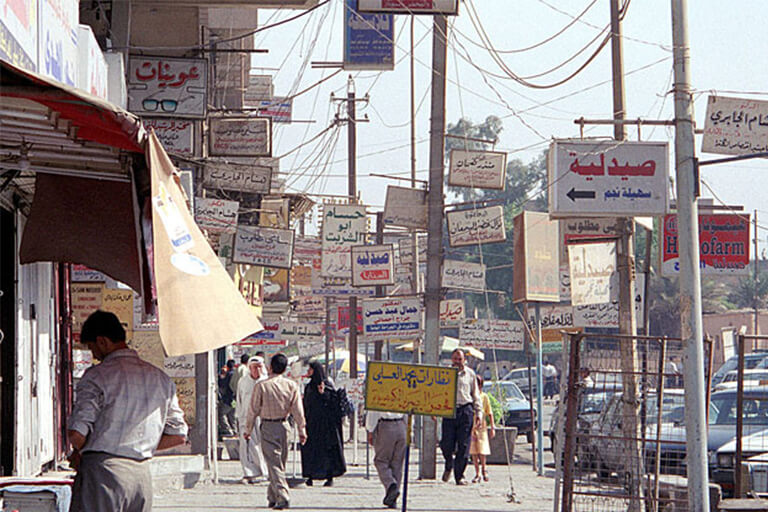 Audio transcript:
0:00:06:>>ROSEMARY PENNINGTON: Welcome to Muslim Voices. I'm your host, Rosemary Pennington. Last summer, 20 college students from Iraq came through Indiana University. It was part of a leadership program sponsored by World Learning. The idea behind the program is to give Iraqi youth firsthand experience of the United States, as well as broaden American understandings of Iraq. The students came from all over the country and study a wide array of topics, including political science and medicine. A few of the students took time to sit down with Muslim Voices to talk about their studies as well as life back home in Iraq.
0:00:47:>>IRAQI STUDENT #1: I'm a medical student at Baghdad University College of Medicine. My parents are doctors and my big brother is also a doctor and he's married. And my sister's still having her residency here. And I have also another brother who passed away last year and he was also with the greater medical college and I am also a medical student.
0:01:11:(SOUNDBITE OF MUSIC)
0:01:15:>>IRAQI STUDENT #1: Problems that doctors are facing - it's maybe, like, the lack of staff that work in, you know, doctors. There are no lot of doctors, like, working nowadays because, like, each one of them, like, when they would finish their studying, they would just, like, travel abroad and that's it. They don't care about anything but the certificate because of the situation and because of the situation in the hospitals. And because there's a lack of medications in hospitals, (unintelligible) is not good, they're - the patients are suffering from heat, so it's really like - this would make it a big difficulty for the doctors.
0:01:55:(SOUNDBITE OF MUSIC)
0:02:04:>>IRAQI STUDENT #2: I'm studying politics and international relations at the University of Kurdistan Hewler.
0:02:11:(SOUNDBITE OF MUSIC)
0:02:11:>>IRAQI STUDENT #2: What made me to study politics - since I was child, like, I was always, like, engaging in discussions or when, like, families - or let's say the men's - like my father, brother and my uncle - were gathering, having discussions about politics, my father always, like, encouraged me. Come on, what do you think about this? Like, though I was a child, I was, like, making fun - yeah, I think it's good. I loved that man. He's cute, handsome. But still I felt that, like, he made me to love politics. I like to say my opinion - to speak out, even though if people don't like my opinion, but still to speak out and to have an opinion about everything.
0:02:46:(SOUNDBITE OF MUSIC)
0:02:54:>>IRAQI STUDENT #3: My grandmother really put the thought of the idea to be a doctor in the future, but who lead me all the way? And to - 'til now it's my father because we always - after I finish one stage of my life, we always have a meeting - private meeting between me and my father and he just sits down and speaks about his whole experience of life - because he was very - once a very good student and, because of some bad situation, he let go of the - his major. He was also a medicine school, and then he turned to be a teacher. He loved the teaching there, but he want to be a doctor. So he says to me that, even if the bad situation is happening, don't let go of your career. Just move on.
0:03:48:(SOUNDBITE OF MUSIC)
0:03:54:>>IRAQI STUDENT #3: I should probably mention the ordinary day for an Iraqi person. You just get up early in the morning. I mean, very early because, if you want to get to your job at time, there's a lot of military checkpoints and it's very hard to pass through. And if you - if your - my lecture starts at 9:00, I should wake up at 5:00 so that I can catch my lecture. And then, when I get to college and into the lectures, and the professor just telling the lecture we hear and a lot of explosions outside and people are just - and guns. But the professor never stop teaching because, if he stop, then the terrorists will be happy. I mean, the point of the terrorists when they make the explosion is to stop life from going on and through the professor and us and just carry on and the lecture - studying and - while hearing the explosions and - I don't know. Life goes on. That's what my father say to me. That's what my professor - and among us, the students - I mean, every students - some of students won't come, and the late day we hear that he died, I mean, in some of the explosions. And the next day, we even get more disciplined about the lectures about the - about the studying. And if there is an exam after someone's death, they're all going to do very great in that exam, even the professors. I mean, that's like living Baghdad. I mean, every - there is war in Baghdad, but there is also life.
0:05:53:(SOUNDBITE OF MUSIC)
0:05:59:>>ROSEMARY PENNINGTON: College students talking about their lives back home in Iraq. Julie Rah (ph) helped with the production of this piece.
0:06:06:(SOUNDBITE OF MUSIC)
0:06:12:>>ROSEMARY PENNINGTON: This has been Muslim Voices, a production of Voices and Visions in partnership with WFIU Public Media from Indiana University. Support comes from the Social Science Research Council. The music was provided by Animus. You can find us on Twitter and Facebook or subscribe to the podcast in iTunes. There's also a blog. Find us at muslimvoices.org.