Muslim Voices — Media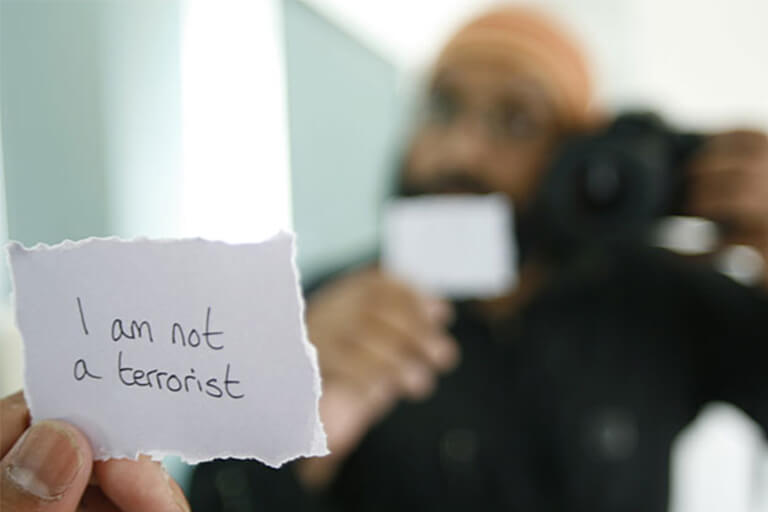 Audio transcript:
0:00:06:>>ROSEMARY PENNINGTON: Welcome to Muslim voices. I'm your host Rosemary Pennington. Representing the many voices and faces of American society can be a challenge for journalists. Minority groups of all kinds are often underrepresented or sometimes misrepresented in news stories. This in turn amplifies stereotypes or misperceptions people have of minorities. It's a topic that concerns many Muslim Americans who say that when it comes to covering people of their faith, journalists may be missing the story. Julie Ra has more.
0:00:43:>>JULIE RA: According to a recent Pew Research Center survey many Muslim Americans are unhappy with news coverage of Islam and Muslims. Fifty seven percent responded that coverage of their religion by American news organizations is generally unfair. And they mentioned negative media portrayals among their top concerns for people of their faith, along with discrimination and stereotyping. Indiana University student Maria Han like many other Muslims says she is unhappy with how the news media covers her religion.
0:01:15:>>MARIA HAN: Muslims are in the media unless something bad has happened. And it relates to something that some Muslim has done.
0:01:22:>>JULIE RA: That's a sentiment echoed by fellow IU student Sarah Thompson. In Thompson's eyes the media's reactionary coverage of Islam and Muslims just reinforces stereotypes that have surrounded the faith for centuries.
0:01:36:>>SARAH THOMPSON: If you want to look at men and women, I think men are in general portrayed as being terrorists and being violent and being oppressive to women. And I think that the women are portrayed as being sort of subservient and timid and oppressed. I think in a lot of ways. And so I think the biggest problem is just that the general public is not educated on what Islam really is and what it really means to be a Muslim.
0:01:59:>>JULIE RA: And that lack of knowledge can lead to a lot more than just misunderstanding. Bloomington Islamic Center president Fis Rothman says seeing their religion mentioned so often in negative news can make some Muslims feel unwelcome in the United States.
0:02:14:>>FIS ROTHAM: Basically whenever anything negative happens in the Islamic community this gets quite a lot of exposure. And on the other hand when the positive things happen that doesn't get that much exposure. So there are a lot of discussion about that. Some people believe there's a conspiracy theory. I personally believe it's whatever sells. Media is probably more in the selling business bad news sells.
0:02:40:>>JULIE RA: Another part of the problem he says is the fact journalists frequently tie Islam into any story involving a Muslim.
0:02:47:>>FIS ROTHAM: A lot of times whenever that perpetrator is Muslim somehow his religion also is mentioned in the news. A Muslim of Afghani descent did something and you'll see it quite a lot. So that's where I guess a lot of people or Muslims are intrigued how come whenever a criminal of Islamic faith does something that his religion also is reported not just his crime?
0:03:15:>>JULIE RA: But it's not just individuals who are tied constantly to their faith. Stories about the wars in Afghanistan and Iraq and the situation in Iran are often laden with information about Islam. And so American audiences are supplied with a stream of images and sounds that often tie Islam to the violence taking place in those countries. Indianapolis Star religion reporter Robert King began covering Islam and Muslims after the September 11th attacks. King says that even though Americans have been receiving a lot of news that mentions Islam since September 11th they're still largely unfamiliar with the faith.
0:03:53:>>ROBERT KING: For people who largely ignored Muslims and Islam before 2001 a lot of folks have been on a crash course trying to figure out what is real about this, you know what - is there a threat inherent in their religion or is it just some extremist fringes who twist it?
0:04:12:>>JULIE RA: There is some coverage of Islam away from the conflicts overseas King says. But it's largely centered on Muslim holidays meaning that unless it's Ramadan or there is some new twist in one of the wars Islam's absent from the news cycle which is a shame, King says, because Muslims certainly aren't absent from American life.
0:04:31:>>ROBERT KING: Muslims are involved in politics. They're running for office and winning office or contributing to the political campaigns. They're involved in environmental efforts with other people of other faiths and they react to issues that everyone reacts to.
0:04:48:>>JULIE RA: Rothman says he thinks one of the reasons Muslims aren't often included in everyday kinds of stories is because there aren't many Muslim journalists. That's not to give the media a free pass though.
0:04:59:>>FIS ROTHAM: Muslims firmly should be - at least in the U.S. - should be studied be reported as demographic group rather than a religious group because that puts a face on this Muslims.
0:05:13:>>JULIE RA: And that's something, Sarah Thompson
0:05:15:>>SARAH THOMPSON: says would be a refreshing change. I guess I would want to see more of those stories about Muslim communities that are going out and just showing like how much work that they do in the community just like other groups and I mean just positive stories about the people.
0:05:29:>>JULIE RA: In general for Muslim voices. I'm Julie Ra.
0:05:33:>>ROSEMARY PENNINGTON: You can find more including the link to the Pew Center survey referenced in Julie's piece at Muslim voices dot org.