Muslim Voices — Muslim Politician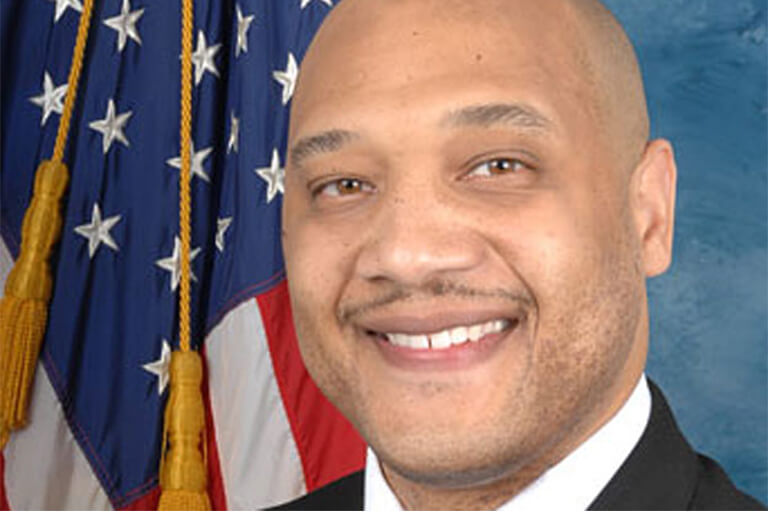 Audio transcript:
0:00:06:>>ROSEMARY PENNINGTON: Welcome to Muslim Voices. I'm your host, Rosemary Pennington. Out of the 535 lawmakers in the U.S. Congress, only two are Muslim, both serving in the House of Representatives. The first, Keith Ellison, was elected from Minnesota in 2006. The second, from Indiana, is Andre Carson. He followed Ellison into the House two years later. Carson was elected in a special election to fill the Seventh U.S. District seat, vacated by the death of his grandmother, Julia Carson. Julia Carson had held the seat for 10 years before passing away. I recently caught up with Andre Carson at his office in the Indianapolis building bearing his grandmother's name. We talked Islam, politics, and how the two have intersected in his life.
0:00:58:>>ANDRE CARSON: My grandmother was a member of Congress and she was in the Indiana General Assembly for several years. But I think throughout the years I served as a precinct committee person, award chair, I was a youth activist. In fact, in high school, I organized the effort to get the first Black history class put in Manual High School in the early '90s. And so I was an activist from years ago and it was really a calling for me. It was something - I had an interest in business and the entertainment industry and other things, but it was really a calling for me, seeing the need and filling that need. So I sat on the city council before coming to Congress and ever since then, you know, I'm a strong believer in the Golden Rule and, for me, it just reinforced the Golden Rule and I felt like politics was a vehicle for me to help others.
0:01:53:>>ROSEMARY PENNINGTON: Did you have any worries that being a Muslim was going to be a problem when you began running for office?
0:01:58:>>ANDRE CARSON: I didn't have any worries. I think my concerns were that there are some people who have great bigotries and prejudiced against Muslims and other folk. I think we have a legacy in our country - a dark legacy of religious bigotry, homophobia, sexism and racism and the like. So dealing with these different -isms is always a challenge, but it has also been a great tool to educate people.
0:02:26:>>ROSEMARY PENNINGTON: Was there ever a point where you were campaigning where your religion turned into more of an issue than perhaps the issues you were running on?
0:02:35:>>ANDRE CARSON: Oh, absolutely. I think in the initial stages it became an issue. In fact, unfortunately, a few - not all of my opponents. Most of my opponents were very civil, but a few of my opponents were hoping to tap in to some fears that people have or the lack of knowledge that some people have with regards to Muslims. But it became a platform, once again, to show that Muslims are people. Many Muslims care about America, care about the great Hoosier State and care about the economy and foreclosures and the war in Iraq. And at the end of the day, you know, the constituents - most people were familiar with me. But at the end of the day, you know, White, Black, red or yellow - doesn't matter what your religion is, people are concerned about what are you going to do to address their needs?
0:03:22:>>ROSEMARY PENNINGTON: President Obama, of course, in his inaugural address and in his speech in Cairo and recently in his short Ramadan address that he gave to Muslim communities globally and locally has been really talking about the need to heal the relationship between the United States and Muslims within the country as well as outside the country.
0:03:41:>>ANDRE CARSON: Absolutely.
0:03:42:>>ROSEMARY PENNINGTON: What's been your reaction to the speeches and to these gestures he's been making and is there more you would like to see him do?
0:03:49:>>ANDRE CARSON: Well, you know, I think it's phenomenal. I think it's unprecedented. We just received an invitation to the first Ramadan iftar at the White House under his leadership. I think we have a visionary universal president who grew up and was raised in Islamic countries and has been exposed to different faith systems and religions, so he has the kind of sensitivity that you really want in a president. I think under the Bush administration you saw this dogmatic, imperialistic regime that was really one-sided and subtly and covertly and overtly promoted this ideology that America is the greatest and only country in the world worth really caring about. And so under President Obama, he realizes the importance of having critical relationships with Muslims. I mean, we're talking about nearly 2 billion people on the planet Earth. And, you know, a lot of the land - natural resources that we utilize in this country come from Islamic nations. And so it's critically important not only to build relationships with different people because it's for the greater good of humanity, but building these relationships in our counterterrorism efforts, in our efforts to build bridges and global understanding - in fact, a lot of our scientists and physicist that we get that help with our technology happen to be Muslims in this country. And so it's important to build relationships with different nations and peoples - it's always good to have friends on all sides of the aisle.
0:05:12:>>ROSEMARY PENNINGTON: Congressman Andre Carson represents Indiana's 7th District in the U.S. House of Representatives and is only the second Muslim to be elected to Congress.
0:05:21:(SOUNDBITE OF MUSIC)
0:05:27:>>ROSEMARY PENNINGTON: This has been Muslim Voices, a production of Voices and Visions in partnership with WFIU Public Media from Indiana University. Support comes from the Social Science Research Council. Theme music was provided by Animus. You can find us on Twitter and Facebook or subscribe to our podcast in iTunes. Also, join the discussion at our blog, muslimvoices.org.