Muslim Voices — South Park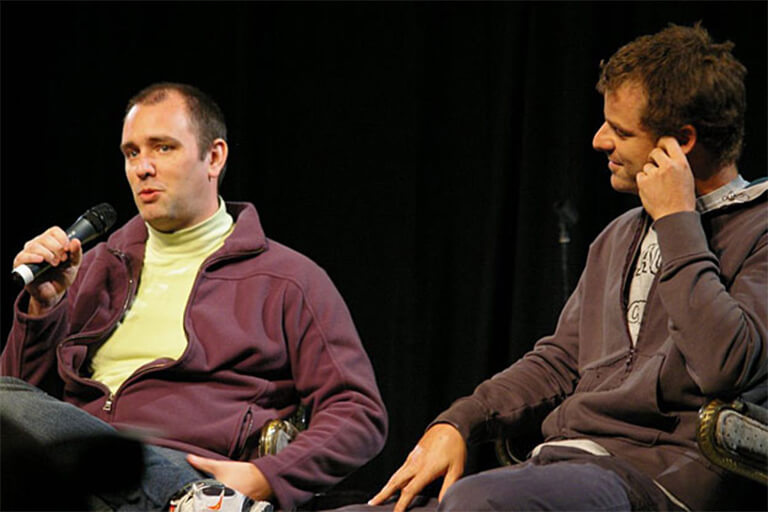 Audio transcript:
0:00:06:>>ROSEMARY PENNINGTON: Welcome to Muslim Voices. I'm your host, Rosemary Pennington. Comedy Central's, South Park sparked a bit of controversy recently with a couple of episodes that teased viewers with a possible visualization of the Prophet Mohammed. That visualization never materialized but it did cause a fringe group in New York to threaten the show's creators with violence. That threat led to a media frenzy that bought into and perpetuated the notion that Muslims are violent. It also caused Comedy Central to censor the final speech that was supposed to close the second of the two episodes. Peter Gottschalk is an associate professor of religion at Wesleyan University. He's also authored with Gabriel Greenberg, "Islamophobia: Making Muslims the Enemy." I spoke with him about the South Park episodes as well as about his book which explores the history of the representation of Muslims in political cartoons.
0:01:08:>>PETER GOTTSCHALK: The book is basically an effort to help Americans realize the ways in which there's a unjustified fear and antagonism toward Islam and Muslims that's just become normal for American culture and that those fears are actually very deeply rooted, they're longstanding, they didn't start with 9/11, they didn't start with the Iranian revolution, they actually reach back about 200 years. And that project really came about because Gabe and I were concerned about some of the negative attitudes towards Muslims following 9/11 and the ways in which they were repeating a certain type of rhetoric and certain stereotypes that were clearly harmful.
0:01:56:>>ROSEMARY PENNINGTON: So what kinds of things were you guys seeing because you were examining political cartoons, correct?
0:02:00:>>PETER GOTTSCHALK: That's right.
0:02:01:>>ROSEMARY PENNINGTON: So what sort of things were you seeing in these political cartoons you were studying?
0:02:05:>>PETER GOTTSCHALK: Well, political cartoons worked by relying on an economy of symbols and images and words and so, they provided a really nice insight into some of the ways in which Americans have seen Muslims, understanding Muslims collectively. And so, we saw that Muslim men tended always to be typified as very angry, as wielding swords, as being misogynist, and generally, looking the same with a kind of Arab facial stereotype. And Muslim women tended to be seen as being very passive, as being victims, as being oppressed by those Muslim men.
0:02:49:>>ROSEMARY PENNINGTON: Of course, recently there was the controversy surrounding Comedy Central's, South Park and its dealing and handling of the Prophet Mohammed. There was the whole hiding of his image and then in the second part, you didn't know if they were going to reveal him or not. And the one extremist group in New York claiming that, you know, the creators of South Park should be worried. I guess I'm just kind of wondering what your take is on this whole situation that sort of erupted around this cartoon?
0:03:19:>>PETER GOTTSCHALK: Well first, I think it's interesting the ways in which this so-called group was able to get all the attention that it did. Looking at the news reporting on this event, it's particularly striking that none of the news organizations that I've looked at have made any effort to see exactly what this group is and how big it is and how important it is. It's simply that apparently this so-called group with unknown numbers of members, there wasn't an interview or a telephone interview with one member, posted on their website. The prediction that what might be possible is that the violence that befell the filmmaker, Theo van Gogh, would befall the makers of South Park. But the New York Police Department actually investigated the organization's claims and found that there was absolutely no threat. There was nothing to worry about. So first of all, a website is able to get this much attention. Why? Because the media picked up on it and immediately trumpeted it across the airwaves and across the online forum as well as in print. Again, without any sense of any kind of imminent threat, but suddenly it's a radical Muslim group is making this threat. So I think that to me is the most astonishing phenomenon that for all we know, one person with a website is able to get this much of attention and reaffirm all of the negative stereotypes about intolerant and violent Muslims.
0:05:00:>>ROSEMARY PENNINGTON: I was going to say I was struck to during the coverage of that, the fact that it sort of reinforced all of those ideas that Muslims are inherently violent and that Islam is a violent religion.
0:05:11:>>PETER GOTTSCHALK: Exactly. And this is clearly a message that most Muslims are very, very sensitive about, and entirely disagree with. And you have Islamic organizations that are constantly working with the media to try to put out a message that this isn't the case. But this experience of the last bit of time demonstrates that all it takes is one person, perhaps with a website, in order to get the media engines going and returning to the same old narrative about intolerance of violence.
0:05:49:>>ROSEMARY PENNINGTON: Now, South Park isn't the only cartoon that has had issues surrounding depictions of the Prophet Mohammed. There was also I believe a Family Guy episode where that either didn't air or was heavily censored because it was going to depict the Prophet. Are makers of media, are they being overly concerned about this issue?
0:06:08:>>PETER GOTTSCHALK: It certainly would appear that way. We can also use the example of Yale University Press which in late 2009, decided to pull the Danish cartoons from a book that was dedicated to academically investigating the whole cartoon controversy. And even though the author, Clausen, had passed by the manuscript, not only with the editorial board but also with some Muslim organizations to get a sense of how this would be received and yet nevertheless, Yale University Press had a really late notice, just decided to pull the images entirely. This seems to be real overkill.
0:06:50:(SOUNDBITE OF MUSIC)
0:06:55:>>ROSEMARY PENNINGTON: This has been Muslim Voices, a production of the voices and visions project in partnership with WFIU public media from Indiana University. Support comes from the Social Science Research Council, music was provided by Animus. You can find Muslim voices on Twitter and Facebook or subscribe to our podcast in iTunes. There's also a blog, muslimvoices.org.
0:07:19:(SOUNDBITE OF MUSIC)