Muslim Voices — Turkey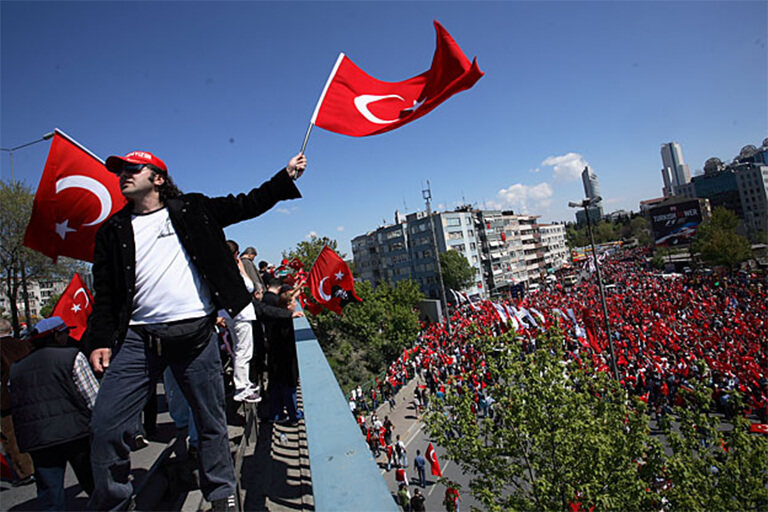 Audio transcript:
0:00:06:>>MANAF BASHIR: Welcome to Muslim Voices. I'm your host, Manaf Bashir.
0:00:10:(SOUNDBITE OF MUSIC)
0:00:12:>>MANAF BASHIR: The Republic of Turkey is often held up as an example of democracy at work in the Muslim world. Although overt signs of religious faith are outlawed, there is an Office of the Directorate of Religious Affairs. The office controls the practice of Islam in Turkey. It's a practice that is Sunni-focused, with members of the Shia Alevi sect of Islam often feeling marginalized by the state. But there isn't only tension between Sunni and Shia, there is a more general tension between religion and secularism. As a matter of course, religion is supposed to stay out of politics, but that hasn't always happened. In 2002, the admittedly conservative JDP party came to power claiming to be a moderate and democratizing force in the country. But critics say the JDP is nothing more than a party of Islamists parading as reformers, and point to recent actions of party officials as proof. Indiana University's Erdem Cipa grew up in Istanbul and is one of those wary of JDP.
0:01:13:>>ERDEM CIPA: What we have in Turkey right now is that JDP is trying to establish itself as this democratizing force - makes that claim and proposes some changes that are actually democratic. But on the other hand, you know, silences many voices there though secular and secularist. And they also are proposing some changes - new changes in the law - along with the appointments into significant offices, they propose new changes into law that leads to the diminishing of the rights of the Alevi Muslim minority - a significant minority, 25% of people in Turkey. They're the nationalistic Kurdish minority. Along with other non-Muslim minorities, and definitely the rights of women and children. So, you know, those - the changes that are happening right now in Turkey have been a matter of controversy.
0:02:04:(SOUNDBITE OF MUSIC)
0:02:14:>>ERDEM CIPA: The principle and the idea that the JDP had, you know, from the beginning onwards and expressed it in a - much more coherently and, like, strongly in the beginning, but not so strongly anymore because of the banning of the inner party - or at least the question of the banning of the party - is the fact that, ultimately, within the democratic regime, using the offices and using the establishment of the democratic regime, they want to create what they call a traditional and Islamic society that will be, you know, led initially by the rules governing any democracy, but later, just because of numbers and the electoral process in Turkey, is going to lead what the people want. And according to the JDP, what the people want is an Islamic regime. It is one that is, you know, based - has certain elements from democracies, like elections, but is going to change the laws in the direction of - well, in a more Sharia-minded, you know, segments of the society.
0:03:16:(SOUNDBITE OF MUSIC)
0:03:23:>>ERDEM CIPA: Tayyip Erdogan, who is now the prime minister, and Abdullah Gül, who is the president of the Republic of Turkey, and many times in the last 10 years has stated that they see democracy as a streetcar, and they are going to hop off the - in the streetcar, you know, when they arrive at their destination, and they did not make any secret that that destination was not - was an Islamic democracy, meaning that the laws would be reshaped and reestablished in accordance with the Sharia. In the last three months, many statements that they made and many, you know, the reactions that they had to everyday events was a clear indication that they want that kind of a future. In that - you know, I mean the changing of the law that reduces the marriage age for women to - you know, from in a 15 and 16 to 14. So making - and also to make it into law, enabling rapists marrying the - their victims and the victims, you know, being forced - socially, that's the case in Turkey, unfortunately - being forced to, you know, marry their own rapists.
0:04:25:(SOUNDBITE OF MUSIC)
0:04:41:>>ERDEM CIPA: The rights of the minorities are not respected now. And if the regime becomes more Islamic, it is definitely not going to be a respected then because, in my opinion, Islam both as a religion and the manifestation of Islam as a political movement is absolutely incompatible with a democracy as we know it. Meaning that, if democracy is, you know, based on the equality of citizens in the eyes of the law, Islamic law is not egalitarian. Women do not have the same rights. Minorities do not have the same rights. Muslims do - non-Muslims do not have the same rights as Muslims. So that is not really a basis and cannot - can never be the basis of a democratic society. And if JDP and the way I observe it right now is moving in that direction, it is not going to be a democratic regime anymore. And if we are going to talk about the regime change, I think that's a very big problem Turkey has in its near future.
0:05:37:(SOUNDBITE OF MUSIC)
0:05:44:>>MANAF BASHIR: Erdem Cipa is an assistant professor at Indiana University's Department of Central Eurasian Studies. This has been Muslim voices, a production of Voices and Visions in partnership WFIU Public Media from Indiana University. Support for Muslim Voices comes from the Social Science Research Council. You can subscribe to our podcast on iTunes or join the discussion on our website. Find us online at muslimvoices.org.
0:06:10:(SOUNDBITE OF MUSIC)