Muslim Voices — Veil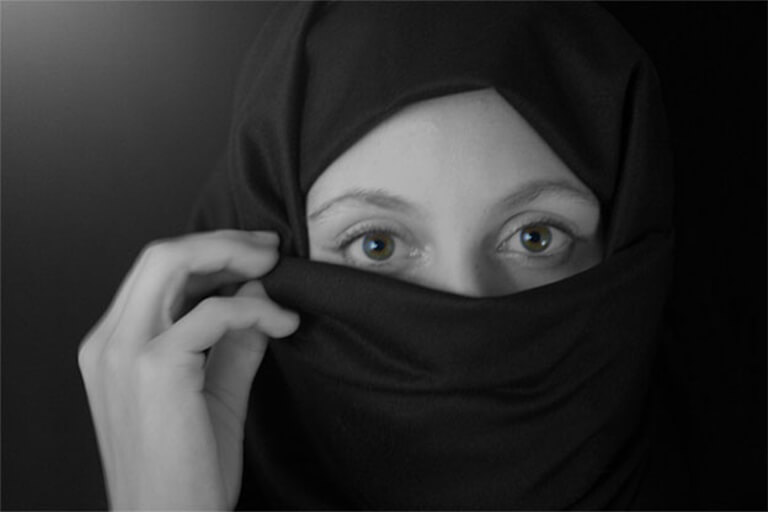 Audio transcript:
0:00:07:>>MANAF BASHIR: Welcome to Muslim Voices. I'm your host Manaf Bashir. It is among the most recognizable aspects of Islam - the veil. But what is it exactly? What does it entail? The Quran said simply that women and men are to dress modestly. Some have interpreted this as meaning woman must cover their heads with a scarf outside the home. For others it has meant women must cover themselves from head to toe in garments, like the burqa of Afghanistan. Heather Akou is an assistant professor at Indiana University and an expert in African and Muslim dress. She's also a Muslim who wears a headscarf. Producer Rosemary Pennington spoke with Akou about the veil.
0:00:50:>>HEATHER AKOU: So usually when people talk about the veil today they're talking specifically about Muslim head coverings. And I guess for me personally, and for a lot of Muslims, the term veil is actually not very helpful. Really what people prefer to call it is hijab, which actually means covering and it refers to a whole set of practices involving modesty, the body and not necessarily a specific item of dress.
0:01:14:>>ROSEMARY PENNINGTON : So when you talk about hijab, what exactly is that? Is there a specific idea of what hijab is or is it a cultural thing?
0:01:22:>>HEATHER AKOU: Good question. OK. Well, the idea of hijab is actually very general. The word hijab itself means covering and it refers not just to covering the body but also - for example, if you think about a screen within your house, that could also be referred to as hijab because you're using it to, you know, hide perhaps people behind the screen or screen off one part of the room. So it actually is a very, very general word. Now, if you think about how did it get applied to certain items of clothing, specifically covering the head, the Quran says basically people should dress modestly, cover your private parts. And that's really about all it says. Now, it specifically does use the word hijab but it doesn't say you have to wear black, it doesn't say you should cover your face. In fact, it really doesn't say exactly what parts of your body you should cover, just that you should cover your private parts. So that really leaves the door open to a lot of interpretation. So for instance, in Afghanistan where you saw women wearing head to toe body coverings, you can't even see their face. Their face is actually hidden behind a screen so they can see out but you can't see in. That is very much a cultural interpretation. In fact, there are a lot of Muslims who think that's really - covering your face especially - is pretty extreme and pretty degrading to women. So it's definitely not a universal thing that all Muslims think is good practice.
0:02:44:>>ROSEMARY PENNINGTON : What do you say to those people who think that hijab and and having women wear headscarves is an oppressive thing?
0:02:51:>>HEATHER AKOU: To a certain extent, I can understand how people have come to the idea that wearing a headscarf is oppressive, especially when you think about a case like Afghanistan. Definitely women were being oppressed and are still being oppressed. I mean, not being allowed to hold a job outside your home or go to school. I mean, to have young children growing up with no education because you have some, you know, very extreme idea about sheltering them. I mean, that is oppressive. So I'm not surprised that Americans in particular - and people in other parts of the West who have really gotten this idea that covering your head is oppressive. But I do think - I mean, I wish that more Americans knew that covering the body and being modest actually has a much longer history and is common not just to Islam but also to Judaism, and Christianity and many other religions around the world. There's a very common idea of covering your private parts, being modest about your body and that's really where the practice started. The idea was not to oppress women. In fact, many Muslim women see it as being very liberating that other people are not looking at them thinking, you know, oh what I think about her haircut or her makeup. You're really - you're covering your body. And of course, you can display it when you're at home. It's not that you have no body and you have no beauty but outside the home, you don't want to be an object of harassment. You want to have people interact with you based on your ideas, and your abilities and not so much what you look like.
0:04:21:>>MANAF BASHIR: Heather Akou talking about the hijab. Akou is an assistant professor in IU's department of apparel merchandising and interior design. She's also a member of the African Studies faculty. This has been Muslim Voices, a production of voices and visions in partnership with WFIU public media from Indiana University. Support for Muslim Voices comes from the Social Science Research Council. You can subscribe to our report and on iTunes or join the discussion on our website. Find us online at MuslimVoices.org.