Muslim Voices — Zanzibar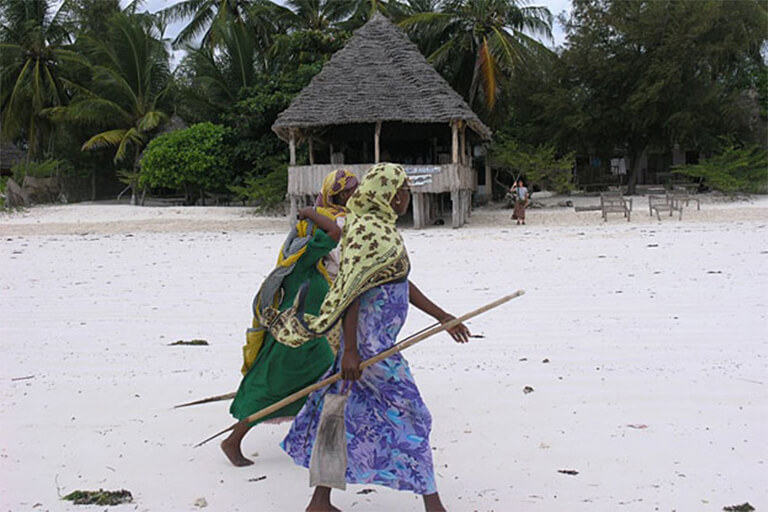 Audio transcript:
0:00:06:>>ROSEMARY PENNINGTON: Welcome to Muslim Voices. I'm your host Rosemary Pennington. Almost half the population of Africa is Muslim. Islam first arrived on the continent in the seventh century as disciples of the Prophet Mohammed fled persecution in Arabia. By the turn of the century, the religion had spread across much of North Africa and had spread into East Africa by the mid-800s. One of the areas that took quickly to the religion was Zanzibar. The islands are now a semi-autonomous region of Tanzania and 97% of its population practices Islam. Alwiya Omar is an associate professor of linguistics at Indiana University and grew up in Zanzibar. She shared stories of her life there with Muslim Voices.
0:01:03:>>ALWIYA OMAR: I am from Zanzibar, Tanzania. Zanzibar is actually a name given to two islands - Unguja and Pemba. And I come from Unguja, the bigger island, which is also referred to as Zanzibar. So I usually say I come from Zanzibar, Tanzania. In Tanzania, we have over 140 ethnic groups, over 140 languages. But I come from Zanzibar, which is mainly - people are mainly from interracial marriages. And so we don't really have a particular ethnic group. I don't know how I can explain this so that you can understand. My father comes from Yemen. He came from Yemen to Zanzibar and was - married my mother who was born and raised in Zanzibar but had grandparents from maternal - and maternal come from the Chamorro islands and they were of mixed or so descent. So I don't know my ethnic background. I'm a Zanzibari of African and Arab ancestry. And in Tanzania and in Zanzibar women don't go to mosques. We pray at home. It's the men and the boys and who go to the mosque. So I haven't had the experience of the mosque (laughter) in Zanzibar. My first experience of going to a mosque is here in Bloomington, Indiana. So (laughter) we usually just pray at home, the women. So I kind of - I find it interesting that I could have both ways. Here I can go to the mosque and I have the option to be at the basement where the women usually are or I can go upstairs and be behind the curtain. I like going to the mosque actually. Here in America we don't hear the call for prayer. Like back in Zanzibar - I actually just came back. Four or five in the morning there's a call for prayer - asking people or reminding people it's better to go and pray. Prayer is better than sleeping. And they're just like okay. I have to get up and go pray. And I went with my sons actually. And their uncle will come and knock on the window. It's time to go pray. And they will get up and go and pray. So there's that kind of reminder while here it's you don't get it. But I'm sure in Middle East also it's that kind of call for players. I just wanted to say that I'm a Muslim. I believe in one God and also Prophet Mohammed is the last prophet. But I also believe in all the other prophets that came before Mohammed. I believe in (speaking Arabic) which means Jesus. I believe in Moses - Musaa. I believe in Abraham - Abraham, all the way back to Adam. And actually in Swahili and of course and also in Arabic, we refer to all of us - all of us human beings as children of Adam. In Swahili it is (speaking Swahili), children of Adam, (speaking Swahili). So we are all one and the diversity that we have, the different practices that we have within Islam and within different faiths shouldn't be divisive, shouldn't divide us. We should learn from these differences and know each other better and to also remember that we are all one children of Adam (laughter).
0:05:23:>>ROSEMARY PENNINGTON: This has been Muslim Voices, a production of Voices and Visions in partnership with WFIU public media from Indiana University. Support comes from the Social Science Research Council. Music was provided by Animus. You can find Muslim Voices on Twitter and Facebook and subscribe to the Podcast in iTunes. There's also a blog at muslimvoices.org.